Upgrades to economical runabouts appeal to many car buyers, and that's the field Ford plays in with the 2016 Ford Focus Titanium.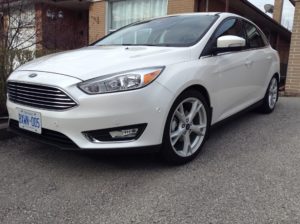 First impressions
Ford's current design language includes its take on the trendy but handsome vertical grill that makes me think of the gaping mouth of a whale. Headlights seem to want to move to the sides of the vehicle, which gives it a windswept look.
My White Platinum Met Tri-Coat looks low-slung thanks in part to the 18" alloy wheels shod with performance tires. Subtle creases just below the windows lead to the spoiler Ford added to the trunk lid on the Titanium.
Interior
The drivers seat proved a tight fit for my 6'5" frame. I ended up sliding the manual inside portion of the power moonroof back so that I could sit up straight. I didn't have to bend my neck or slouch, but even with the seat lowered as far as it would go, driving the Focus resulted in a new part in my hair where my head met the moonroof's edge.
Luxury touches like the heated steering wheel and customizable LED ambient lighting improve the cabin's overall feel.
Hockey bag test
A shallow trunk floor conceals a spare tire, tools and space to store odds and ends. That shallow floor made my hockey bag a tight fit vertically. The speaker on the right side cut into trunk space at the sides. The trunk is deep enough to store a line of grocery bags behind the bag shown below.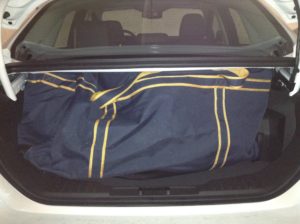 In-car technology
Ford, like its competitors, provides so many features in its vehicles that to add physical switches, dials and screens would turn the drivers' seat into a high-tech aircraft cockpit. That's why carmakers gravitate to touchscreens, where the real estate can change depending on the context required, from navigation to entertainment to phone and so forth.
Sync3 takes Ford's touchscreen offering further towards user-friendliness, with big, hard-to-miss icons and a screen that adapts to ambient lighting. That screen helpfully displays some of the voice commands I can say when I use certain features.
I've written briefly about Sync3 it in several places, so I won't go into great detail here, other than to mention that this is the "five-icon dock" version and not the "six-icon dock." Contrary to what I wrote two paragraphs ago, Ford provides physical climate controls (buttons, dials, a temperature display) instead of lumping these into the touchscreen with a sixth icon. I'm glad Ford made this exception. When it comes to heat and A/C, physical controls are still the way to go.
Ford provides two USB ports it claims charge devices more than twice as fast as previous iterations did.
Driving
A 2.0 -litre 160-hp I4 GDI engine mated to a 6-speed automatic transmission proved serviceable, if not snappy in performance. In certain versions of the Focus, Ford offers buyers a 1.0-litre, 3-cylinder, 123-hp turbocharged EcoBoost engine.
This Focus is studded with sensors. The blind-spot monitoring system flashes a light on the side-view mirror whenever vehicles sat in, well, my blind spot. The Lane-Keeping alert causes the steering wheel to vibrate should you stray from your lane without signalling. You can set the intensity of this vibration from the settings available in the instrument cluster. An onscreen graphic of the vehicle tells you how close the front or rear of the Focus happens to be to any obstacles.
Unlike other Fords I've driven, this Focus has one screen between analog gauges instead of two screens flanking one speedometer. As such, there's only one set of screen controls on the steering wheel.
The optional Active Park Assist can help you slide into parallel parking spots.
Fuel economy
The 47-litre tank on the Focus holds 87 octane and dispenses with it at a rate of 9.3 L/100 km in city driving and 6.7 L/100 km on the highway. The in-car fuel economy gauge told me I achieved a combined 8.2 L/100 km during my week with the Focus.
Pricing
The Ford Focus 4-door sedan, Titanium edition, retails for $26,499. My tester with options plus charges and minus a special $2,000 "moons and maps" discount came to $31,099.