Those of us old enough to remember such things might experience a flashback to an era that ended decades ago when we see the price sticker on the 2015 Nissan Micra. Starting price: $9,995 for the base model.
There's something about a four-figure price tag on a new car that makes one raise the eyebrows. That je ne sais quoi might explain why a few carmakers have striven for that feat using discounts in recent years. The Micra is different: that under-$10,000 number is the everyday starting price for the base model.
Nissan will likely sell larger quantities of higher-trim-level Micras (like the SR I drove for a week), but even they aren't overpriced.
Performance
This "stubby" vehicle has wheels at the corners for a spirited driving experience, propelled by a 109-hp 1.6 litre engine. Performance of the four-speed automatic was peppy enough for city driving, though I wish I could have tried the five-speed manual. (Nissan, can I take it for a spin?) U-turns and parallel parking were obscenely easy tasks.
My favourite Micra number wasn't $9,995 base, but 8.6/6.6 city/highway L/100km. (Miserly fuel consumption is even more adorable than the car's shape, and given the comments I got while driving it, that's saying something.)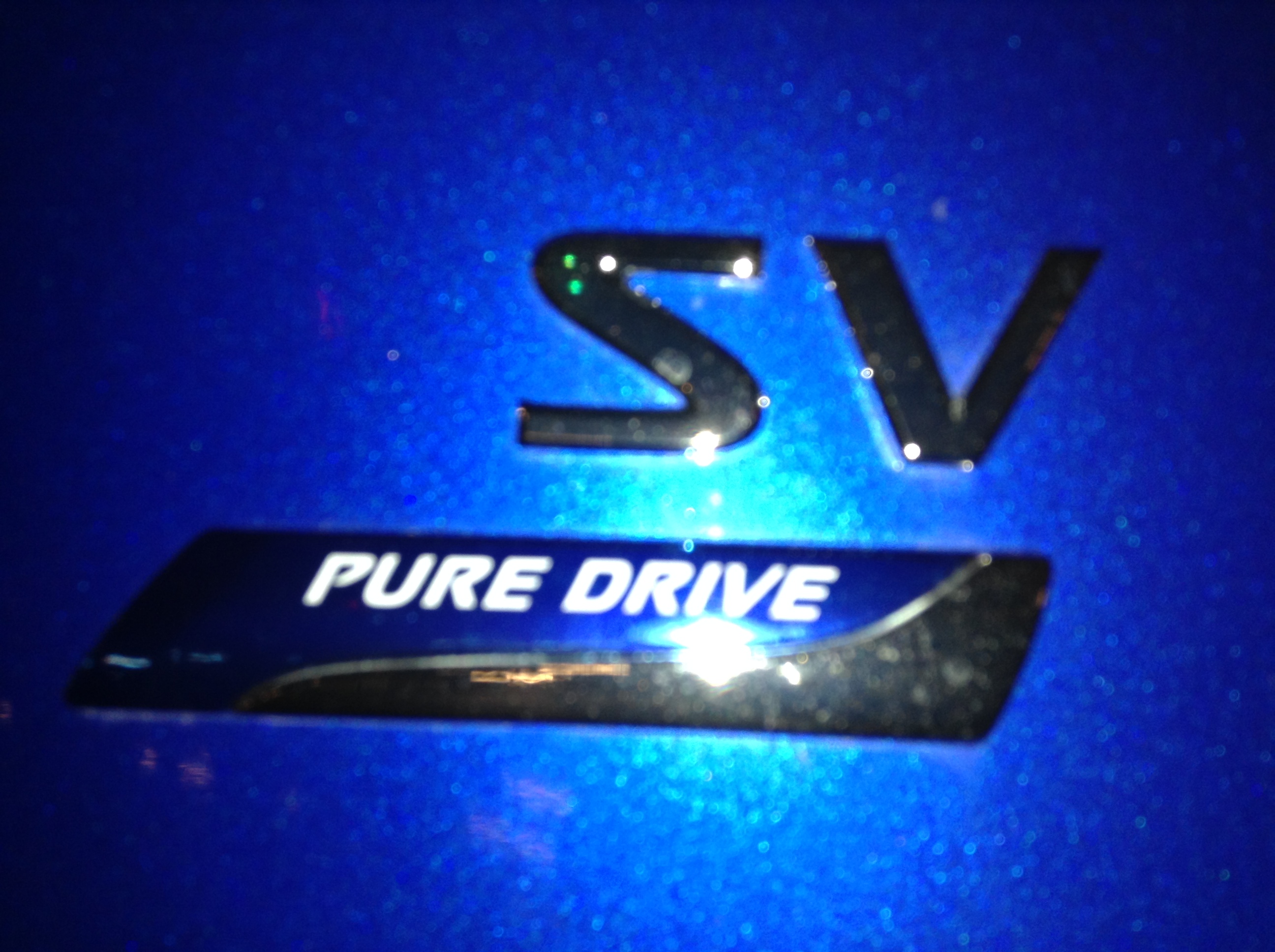 Taking corners at (insert speed here) was fun (yes, I left the speed out on purpose) and the Micra held the blacktop with no complaints. It was quieter than I thought it would be on the highway thanks to the build quality and, I presume, airflow being handled by the "swoosh" designs on the roof. The engine can wind up when accelerating to highway speed on short on-ramps. I had to mash the accelerator pedal once, pushing the tachometer to a hair under the Micra's 6,500-rpm redline, but the merge went without a hitch.
Scrubbing speed should not be a problem, thanks to the four-wheel anti-lock braking system (ABS) and electronic brake force distribution (EBD). The Micra's vehicle-speed-sensitive electric power steering is a nice touch.
Interior
Just sitting in the car, it hits you. The interior is plastic, the seats are cloth, yet nothing in the Micra felt cheap. Bluetooth, ABS, full complement of airbags, reasonably good stereo, USB hookup, most of the touches you would want – but not dare expect at this price – are in this vehicle.
Let me reiterate: Nissan crammed a surprising number of modern automotive conveniences into this small package. My favourite: a driver's seat that accommodates my 6'5" frame without making me recline the seat back or wedge the top of my head against the (mercifully moonroof-free) ceiling. (No such luck in the rear seat, but that's par for the course in small cars.)
Drivers will notice some "cheap" details, like the outline for a dashboard gauge that Nissan seems to have forgotten to remove. An odd, skinny driver's seat armrest comes down from the backrest. Drivers might prefer a compartment that covers the USB and power ports, something in which to hide the electronics you would hook up to them.
Amenities
Yet I can't complain. Frankly, I'm surprised the number-crunchers found room on their cost spreadsheets for details like dual body-colour power heated outside mirrors, body-coloured door handles and, most astonishingly, a rearview camera….
… (deep breath) air conditioning, cruise control, steering-wheel-mounted controls, a sound system with a 4.3-inch (not touch) screen that recognizes Apple iOS (iPhone) audio apps and lets you scroll through your music and podcast collections. The four-speaker sound system does yeoman's service.
Hockey bag test
Cargo capacity in the hatch ought to please the Canadian male. Given how tight a fit my hockey bag experienced, its capacity must be just shy of the Micra's 407.8 L (14.4 cubic feet) hatch. Put the rear seats down and those numbers rise to 819.5 and 28.94, respectively.
 Conclusion
This impressive list of features becomes all the more so when you consider car prices haven't risen in lockstep with the cost of all the technology in them today. Many of the features listed in the paragraphs above weren't available, or even invented, the last time cars regularly sold for under $10,000. The costs of its modern technology, plus the effects of inflation, make the 2015 Nissan Micra a triumph of value engineering.